St Mary's Academy
Our clergy work closely with St Mary's Church of England Academy in Stotfold.
This lower school was founded to provide education according to the principles and practices of the Church of England.
The clergy regularly lead Collective Worship in the school. See St Mary's Academy Collective Worship page.
The school holds Christmas, Easter and Harvest Services in St Mary's Church.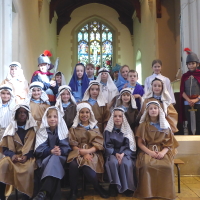 Each year at Easter the children of St Mary's Academy perform a Passion Play in our church to which members of the community are invited.
Involvement in other Local Schools
The clergy lead assemblies at Roecroft Lower School and Pix Brook Academy, Stotfold's new extended secondary school. Twice a month we organise Community Coffee Mornings where the students of the Academy of Central Bedfordshire make the cakes and serve our guests.
Open the Book
Members of St Mary's Church and other local churches act out Bible stories as part of assemblies at lower schools in Stotfold and Fairfield.